New Moon in Shatabisha, in Aquarius ♒︎
Wednesday March 2 18:30 CET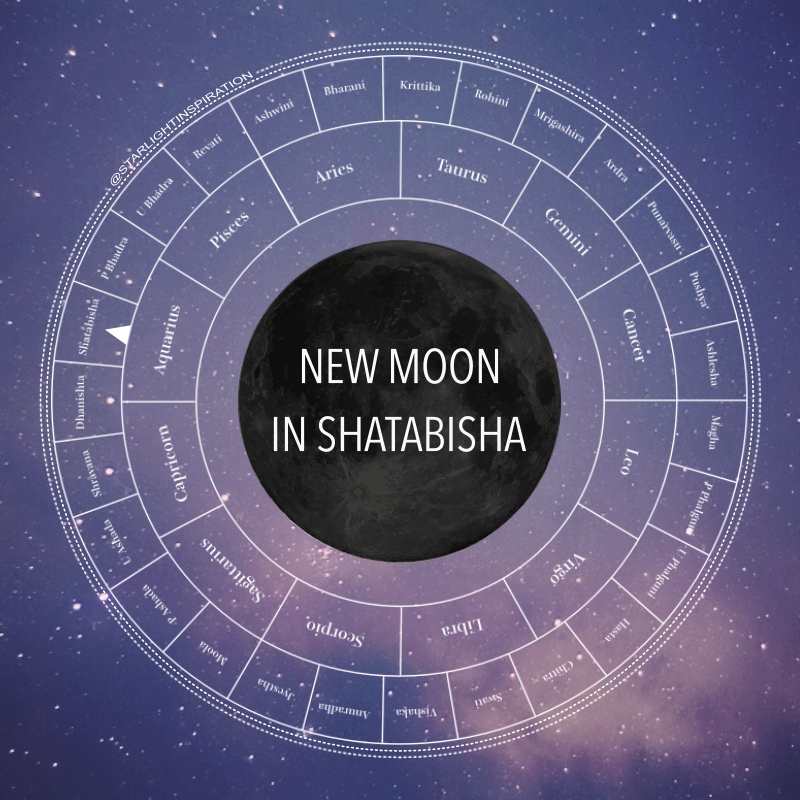 This New Moon will be in the nakshatra called Shatabisha, 'The hundred physicians', which resides entirely within the sign of Aquarius. The deity of this nakshatra is Varuna, the god of water, bringing 𝐞𝐦𝐨𝐭𝐢𝐨𝐧𝐚𝐥 𝐰𝐢𝐬𝐝𝐨𝐦 𝐚𝐧𝐝 𝐡𝐞𝐚𝐥𝐢𝐧𝐠 𝐪𝐮𝐚𝐥𝐢𝐭𝐢𝐞𝐬 to this nakshatra, as well as a self-sacrificing nature that can be seen here. The ruler is Rahu, the north node of the Moon, which can bring intensity and big shifts. There is a hidden depth to this nakshtra, which is shown by its symbol; an empty circle without a midpoint, representing the ability of this asterism to go deep and pursue mystical knowledge🕯
During the time of the New Moon, all the grahas will have gathered within the two Saturn-ruled signs of Capricorn and Aquarius, where Saturn inevitably influences all the planets (not including the outer planets), making us face any illusions that bind us.
Shatabisha is really about shedding illusions in pursuit of the highest truth, as seen by its primary motivation which is Dharma, 𝒓𝒊𝒈𝒉𝒕𝒆𝒐𝒖𝒔 𝒂𝒄𝒕𝒊𝒐𝒏. In order to pursue our highest truth, there has to be a preceding collapse of all material illusions, which is what this nakshatra leads the soul toward, on its path to 𝐢𝐥𝐥𝐮𝐦𝐢𝐧𝐚𝐭𝐢𝐨𝐧 📿
Some questions to reflect on:
❧ Is there something you've been avoiding facing?
❧ Where is your energy most necessary? Are you prioritising correctly?
❧ If you could dream anything into existence; what would it be?
❧ Are you actions in alignment with your goals?
On the day before this New Moon there's a big celebration called Maha Shivarathri, 'the great day of Shiva' when he performs his heavenly dance of creation and destruction among the stars, as is told in the mythological stories. On this day it is common to fast, pray, perform ceremonial rituals, 𝒑𝒖𝒋𝒂𝒔, and chant mantras to seek the blessings of Lord Shiva, the one who wears the Moon on his head 🌙
𝑵𝒆𝒘 𝑴𝒐𝒐𝒏 𝑩𝒍𝒆𝒔𝒔𝒊𝒏𝒈𝒔! ✨
/RoseAnna
If you want more planetary updates and astrology news, be sure to visit my Instagram page!
Would you like a monthly transit update directly to your inbox? Head on over to this page where you can subscribe to my newsletter!