Full Moon Eclipse in Vishaka, in Scorpio ♏︎
Monday May 16th 06:15 CET
Vishaka, the forked one, is the nakshatra bridging Libra into Scorpio which combines the active and intellectual energy of Libra with the sensitive and transformational energy of Scorpio.
This nakshatra is often depicted as a branched tree, but yet another symbol is an archway, through which our initiated ideas take form and are completed within Scorpio, also representing a union such as a marriage union.
Called the star of purpose, Vishaka grants the endurance and determination of following through with initiated undertakings or projects. Likewise, the planetary ruler, Jupiter, provides much support through its qualities of hope and inspiration that flourishes new ventures.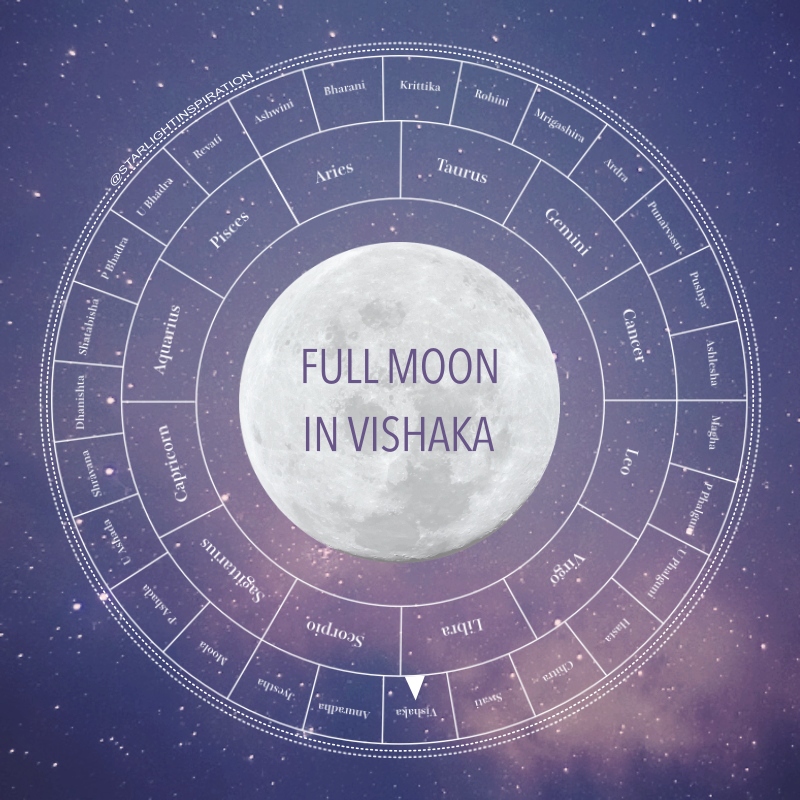 On this Full Moon, the luminaries will be in close conjunction with the nodes (within 4°) creating a total Lunar Eclipse. I wrote about this in great detail in my newsletter (remember to subscribe if you haven't already!) but this means there is usually something from our shadow being brought to our attention which we need to integrate 🎭
I wrote a bit about this in a previous update here, but the eclipses could be compared to activation points of changes being brought into our lives for the duration of the entire eclipse cycle that will happen on this axis, sort of like seeds being planted in our minds that grow into new ideas and new ways of being over time.
During the eclipse is when the energy is most active, but the changes that they instigate are integrated during the 0,5 year until the next cycle of eclipses start. There is usually something from our emotional mind being brought to our attention during the time of the Full Moon Eclipse, when the Moon is encased in shadow as it will be on this day.
In the case of these eclipses on the Aries/Libra axis, we are being asked to heal aspects of our sense of self, our individual needs and visions, and how this manifests in relation to our close relationships with other people 🫂 In this case it could mean hidden feelings surfacing about our self, our accomplishments, or about our relationships, do we feel safe to share our deepest self or are we compromising ourselves for the sake of our partner perhaps?
Seeing as the Moon will be full in the first degree of Scorpio, the sign of deep emotions and the second sign to Libra (the second house to any house shows the gains from that house) there could be some emotional insights about our relationships offered to us, a return of our emotional investment so to speak.
Some questions for reflection this Full Moon Eclipse:
❧ Am I embracing change, going with the flow, or am I resisting the unknown?
❧ Am I embracing myself fully, quirks and all?
❧ Is there some part of me that needs integrating?
❧ Am I following my desired path, supporting my highest potential?
𝐎𝐮𝐫 𝐬𝐡𝐚𝐝𝐨𝐰𝐬 𝐚𝐫𝐞 𝐭𝐡𝐞 𝐠𝐚𝐭𝐞𝐤𝐞𝐞𝐩𝐞𝐫 𝐭𝐨 𝐨𝐮𝐫 𝐭𝐫𝐮𝐞 𝐩𝐨𝐭𝐞𝐧𝐭𝐢𝐚𝐥 ✨🌒✨
Happy Full Moon Eclipse! 🌕
/RoseAnna
Do you want my transit updates delivered directly to your inbox? Subscribe to my newsletter, link here! 💫
If you want even more planetary updates, be sure to follow me on Instagram where I post planetary news every week! 🌟