New Moon in Magha nakshatra, 9° Leo ♌︎
Magha, 'the star of power'
This New Moon will be in Magha, '𝒕𝒉𝒆 𝒎𝒊𝒈𝒉𝒕𝒚', in the sign of the mighty Leo, bringing a regal and magnificent energy to this New Moon. Both in name and symbol, this nakshatra, called 'the star of power' and symbolized by a palanquin or royal seat, denotes power and a majestic quality 👑
The planetary ruler for this lunar mansion is Ketu, the south node of the Moon, representing past accomplishments and conquered territory. These qualities are reflected also by the ruling deities in Magha, the 𝑷𝒊𝒕𝒓𝒊𝒔, or divine ancestors of humanity, providing protection and guidance and seeing to the preservation of mystical traditions.
People born with the ascendant or Moon in Magha often have a sense of regality about them, almost as if things are just naturally given to them, expecting nothing but the best. Magha can also give rise to very loyal, highly respected people, who takes on large amounts of responsibility in service of others, especially their family.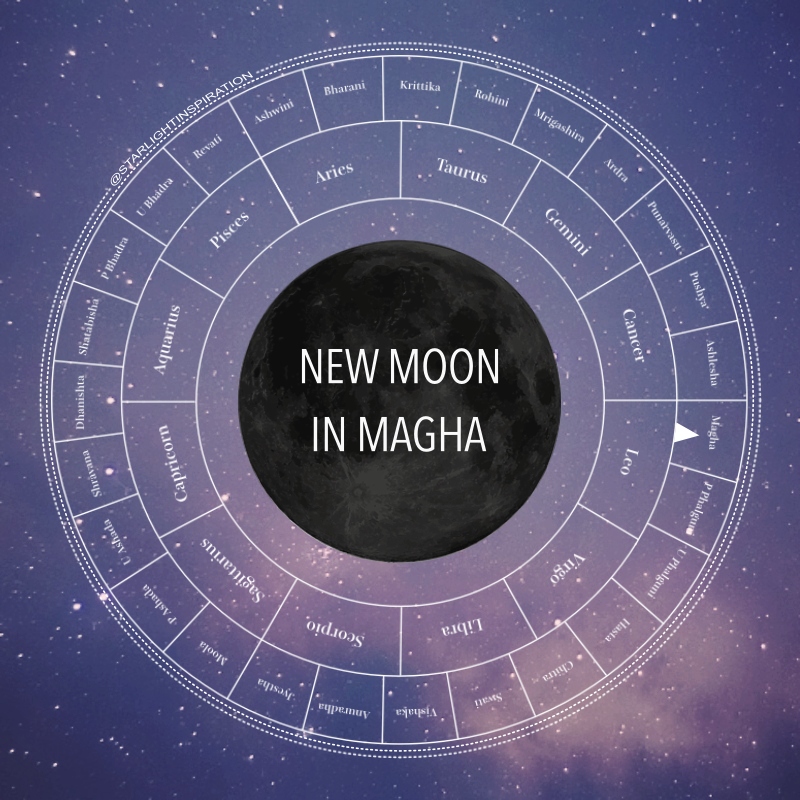 The last Moon cycle highlighted the need for introspection and bringing out our inner potential, this New Moon calls us to look to our responsibilities, and how we balance those with our wants and passions. 𝐖𝐡𝐚𝐭 𝐢𝐬 𝐨𝐮𝐫 𝐢𝐧𝐧𝐞𝐫 𝐟𝐢𝐫𝐞 𝐜𝐚𝐥𝐥𝐢𝐧𝐠 𝐮𝐬 𝐭𝐨 𝐝𝐨?
This New Moon will receive the special aspect of Mars, the warrior and planet of courage and action, providing a fiery determination to anything we initiate this New Moon. This can also provide a sense of irritability or impatience, so use the energy consciously and direct it toward your taking action toward your goals.
I also find it interesting from a numerological perspective to note that the New Moon will be at 9° Leo, on the 27th (2+7=9), also a number 9. This puts emphasis on our (spiritual) teachings, on following our highest truth and, seeing as the New Moon will be influenced by Mars' aspect; there is perhaps a spiritual warrior type of energy coming through, calling us to follow our inner vision & stand in our truth.
𝐒𝐨𝐦𝐞 𝐪𝐮𝐞𝐬𝐭𝐢𝐨𝐧𝐬 𝐟𝐨𝐫 𝐫𝐞𝐟𝐥𝐞𝐜𝐭𝐢𝐨𝐧:
❧ In which areas of my life do I feel supported? Where do I provide support for someone else?
❧ What do my current responsibilities look like? Do I take on too many obligations?
❧ Which things in life am I pursuing that I'm really passionate about? If not, how could I make that happen?
𝐓𝐡𝐞 𝐒𝐮𝐧 𝐬𝐡𝐢𝐧𝐞𝐬 𝐧𝐨 𝐦𝐚𝐭𝐭𝐞𝐫 𝐰𝐡𝐨 𝐢𝐬 𝐭𝐡𝐞𝐫𝐞 𝐭𝐨 𝐩𝐞𝐫𝐜𝐞𝐢𝐯𝐞 𝐢𝐭𝐬 𝐥𝐢𝐠𝐡𝐭 🕯
𝑵𝒆𝒘 𝑴𝒐𝒐𝒏 𝑩𝒍𝒆𝒔𝒔𝒊𝒏𝒈𝒔! ✨
/RoseAnna
If you want these planetary updates directly in your inbox, be sure to subscribe to my free newsletter. You can sign up here!
Or follow me on Instagram for weekly updates on planetary transits here