Planetary transits for January 2023
❧ Mercury retrograde in Sagittarius Jan 1 – 18
❧ Full Moon in Gemini Jan 7
❧ Mars direct in Taurus Jan 12
❧ Sun in Capricorn Jan 14
❧ Saturn in Aquarius Jan 17
❧ Mercury direct in Sagittarius Jan 18
❧ New Moon in Capricorn Jan 21
❧ Venus in Aquarius conjunct Saturn Jan 22
❧ Uranus direct in Aries Jan 23
A new year, a new beginning
A new year, and a new beginning! This feels especially significant for the beginning of this year, as we've had so many big shifts ending and coming into effect around the solstice as well as happening in January. I'm thinking especially about Jupiter turning direct, the powerful New Moon we had in December and of course, of Saturn turning direct in the middle of January – bringing an 'end' to the covid-era as we know it and beginning a whole new cycle of events as it moves into the sign of Aquarius. How will we incorporate what we have learned and our experiences moving forward?
This time of year is in itself a shift between endings and beginnings, and an especially opportune time for reflecting upon the year that has passed; what we have learned and what we would wish to leave behind; as well as reflecting on what we would like to bring into fruition during the year to come. If you're like me and like to turn to your divination cards for inspired thoughts and insights, you can visit this post here for a reading I made with questions for the new year in mind!
Mercury retrograde in Sagittarius
First off, we enter the year with Mercury still in its retrograde cycle, bringing the focus onto our career or work and the ideas and beliefs that inspire us, and motivate us forward, urging us to reflect on these things and trying to bring them into alignment as much as possible. If you're not feeling inspired by your work, or worse, feeling like you're pursuing something that you don't want or that is not in accordance with your core values, this can be a time for correcting course and try to bring more of what truly inspires you into your daily work.
2022 was a year where Mercury's retrograde cycles occurred more in earth signs than anything else, but this year we will see Mercury retrograding more within the fire signs, bringing a focus on intellectual inspiration and evaluating our personal ideas, taking them to the next level.
Mars direct in Taurus
Mars turns direct in the middle of Taurus, bringing back the focus onto our daily practices, our ways of providing for our families and our values, and how we want to pursue and take action on those things going forward. Are you satisfied with your daily routines, or has this retrograde cycle brought something to your awareness that you'd like to improve? When moving forward again, Mars regains more of his natural strength and fiery motivation, so this can feel like a much longed-for infusion of energy and determination.
I've started a YouTube channel!
Watch my first update about January below!
Saturn in Aquarius
Saturn (finally) changes signs on January 17th, leaving the somewhat hard lessons and challenges of these past three years behind, taking us into a new 2,5 year cycle in humanitarian Aquarius. This airy sign of higher visions and the collective brings a focus on our vision for the future and how we can focus our actions on creating a positive reality. Aquarius is a sign of selfless action, charitable work and service, of taking the focus from the success of the self (Capricorn) to the success of the community (Aquarius).
Look back on the months of May and June in 2022 when Saturn first poked its head in Aquarius and see if you can remember what those months were like, if you noticed a change in energy back then. I remember noticing a shift in my outlook on the future and feeling much more hopeful and inspired during that time, and when Saturn started its retrograde cycle in July, we began hearing about the re-appearance of lockdowns in the news again.
I think we will likely deal with the aftermath of this era for a while yet, but how we approach it and our collective attitude will shift as Saturn moves into Aquarius, where we start to integrate our experiences from the past years with our desired way of being in the future.
This Saturn transit will emphasize new ways of thinking and bringing a new focus on humanitarian action, where we'll likely see more efforts to help endangered animals, environmental causes rising, as well as more people uniting to better the collective. On a personal level, this brings the focus onto our personal sense of being of service, and of taking your dreams to the next level; where you share your gifts with more people.
If you're curios to know more about what this will mean for you individually, I have a new offering called: The ten most important shifts in 2023 – for your sign! Provided as an easily accessible PDF guide that gives you more insight into what this Saturn-transit means for you individually, plus nine other important planetary shifts coming this year. Email roseanna@starlightinspiration.com for inquiries! More information here.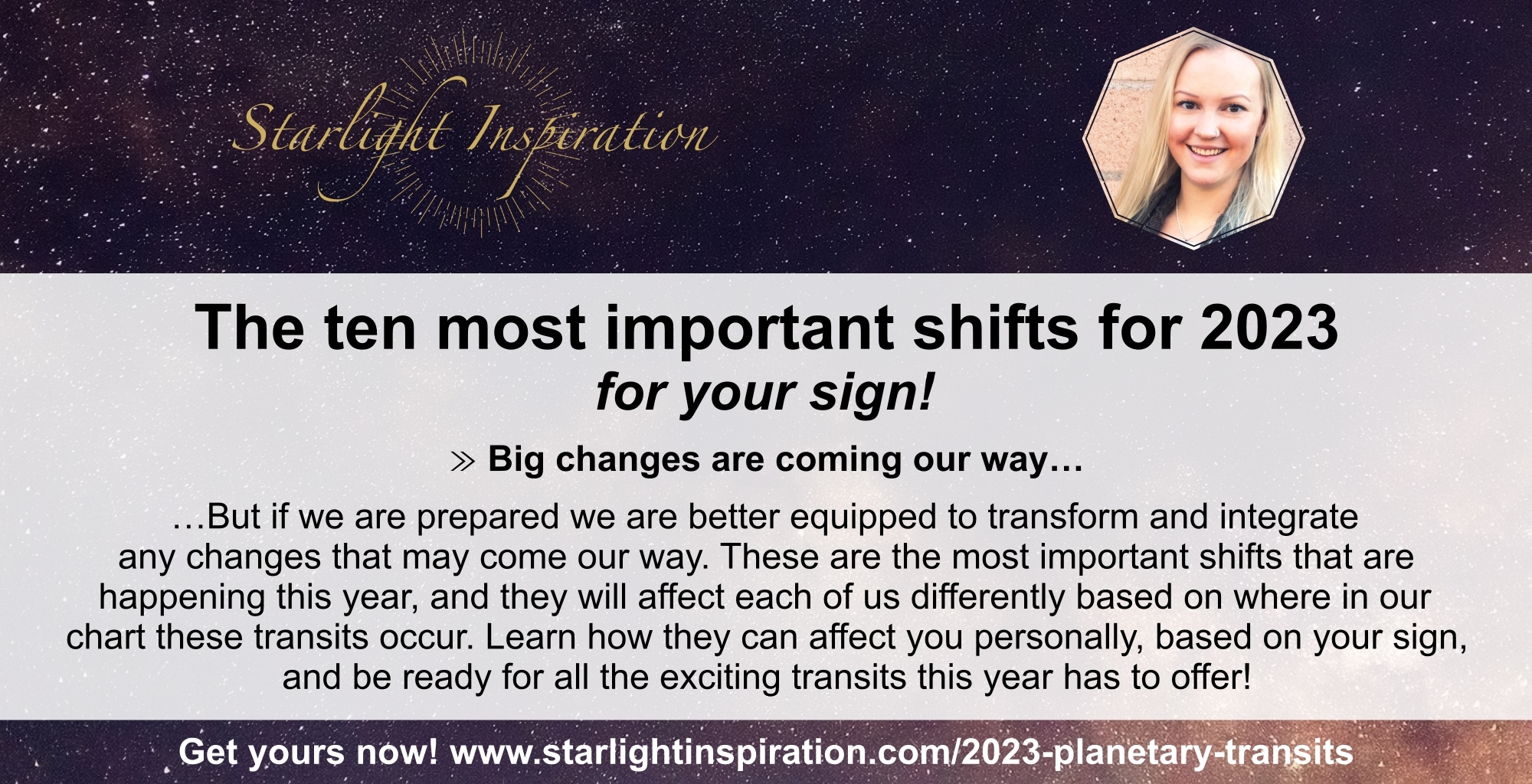 Venus in Aquarius
Venus moves into Aquarius also on January 22nd, immediately going into a conjunction with Saturn in the first degrees of the sign, setting the tone for Venus' transit through the sign, bringing a more serious energy to Venus' natural state of joy. Venus is the planet of happiness and desires on a personal level, and when in Aquarius becomes even more concerned with the happiness of the community and of elevating our personal desires and bringing them into the world, however that may manifest for each of us individually.
This could be in the form of sharing your projects, art or interests with more people, or getting involved with a cause that you're passionate about, as Aquarius can bring out the devotional nature of Venus and turn it into humanitarian action. The conjunction with Saturn can heighten this further, as it brings an influence of caring for the 'underdog'; where we want to share our personal wealth (Venus) with the less fortunate (Saturn) as well as creating a devotion to being of service.
I have to say that it is with a positive feeling and much hope for the coming year that I end this month's update, and I hope that I was able to transmit some of that hopefulness to you as well, reading this newsletter! I find it interesting that this year numerologically equates to the number seven, which in my school of thought is associated with the planet Saturn, whose transit into Aquarius stands for the absolute most important shift we will experience this year! May this year be one of unity, humanitarianism and hope.
I wish you a happy beginning of the new year and an inspired 2023!
Many blessings! ✨
/RoseAnna
Want my planetary updates sent directly to you? Subscribe to my newsletter here.
Connect with me on Instagram to see more even more updates on planetary transits for January 2023!